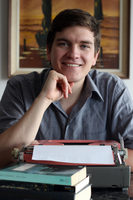 Posted on June 1, 2014
Dr John Cherry, a hydrogeologist with the Council of Canadian Academies (CCA), says fracking wells in Canada aren't built for the long haul; they tend to spring leaks.
"In my view, well integrity is likely the most important shale gas issue," said Dr Cherry in Toronto, Thursday, May 29. Dr Cherry chaired the CCA's expert panel on understanding the environmental impacts of shale gas extraction (fracking). This panel released its report in early May.